Acknowledgements to the list-makers, whose work I enjoy so much. The structure of this list based on John Vorhees work for Mac Stories
This year I've dug myself deeper and deeper into the Apple universe, a Mac and a Mac Mini and even using a MacBook Pro for work (not the sturdy Windows 10 workhorse) coupled with an iPad, iPhone and now even an iWatch. It hasn't been without problems. iCloud syncing and security is a bit of a disaster, but yes, I'm in.
So, I'm always looking for apps that work as seamlessly as possible between the Mac and the IOS version, using some sort of cloud application in the background and all of that is getting better. Most of the time now I can rely on the thing to be backed up, for the version I open on the iPad really to be the version I was working on last night on the Mac.
I've mostly used Vorhee's categories for my app list, except I deleted his podcast and communications categories. I've kept these:
Writing
Reading and research
Images and Video
Utilities
Task management and planning
Writing
For the last couple of years I've been using a text editor called Ulysses but then it went to a ridiculous subscription model and I moved to iA Writer (you can read about that move here) I won't repeat my earlier blog post on why iA Writer works for me, but you can read that post yourself here Enough to say, that iA Writer does the distraction free thing really well, for a fair price. And, yeah, I wrote this on iA Writer and just 'shared' into WordPress.
My work in a school is dominated by Microsoft: the Office suite, Outlook, Word, PowerPoint. Of the MS world, OneNote stands out as an organising and note-taking tool for me, and with OneNote Classroom Notebooks, it's a pretty potent teaching tool as well with increasing power that's been in the Windows version, coming to the Mac as well.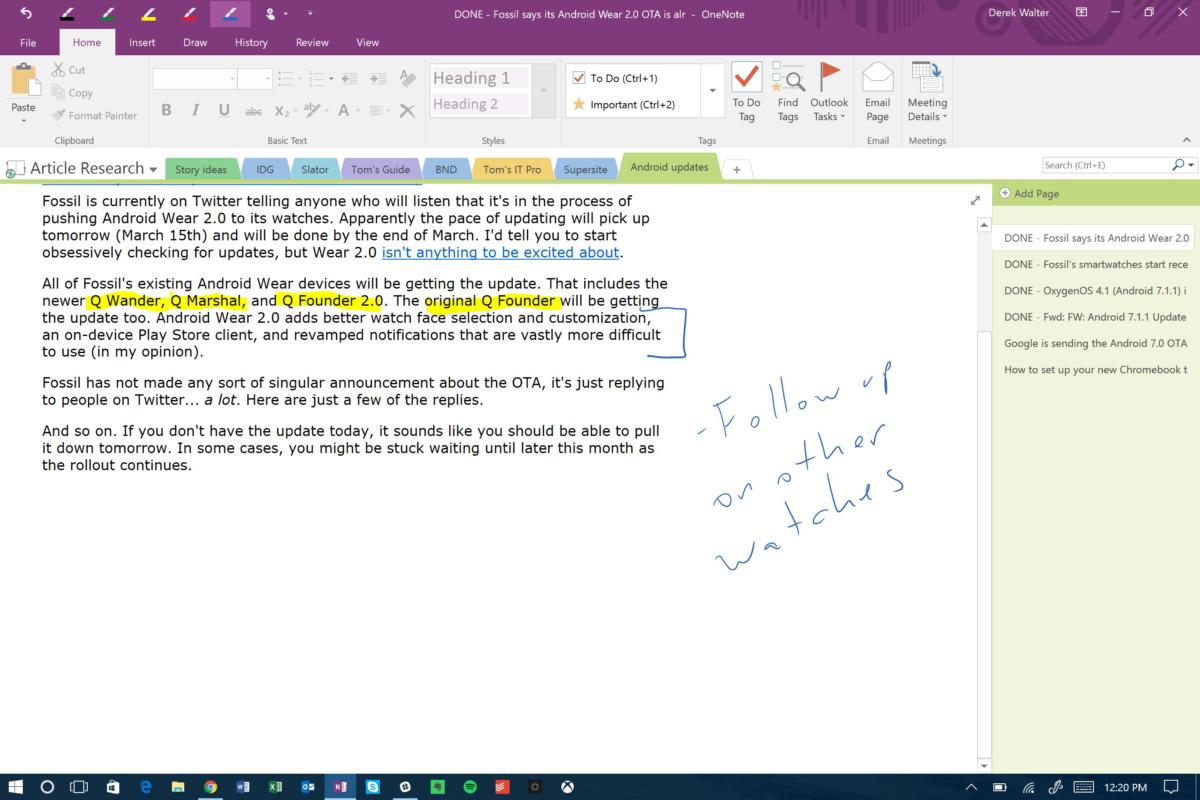 I sometimes feel that I should like Scrivener more than I actually do. I do like it, especially for longer-form writing, and especially for output to ePub or a range of other formats. It got a pretty big upgrade this year and looks better than ever; it's just that, writing poetry a lot, I'm just as happy working in iA Writer most of the time.
Reading and Research
Feedly is my go-to RSS Reader, and one of the apps I open on my iPad every morning (just after the email, and right before Tweetbot)
I also like Pocket as a place to store articles I want to get to later on; it's pretty amazing how beautiful the articles look, and how quickly they format, in this tool. It has an off-line mode too for those plane trips.
Evernote is also a tool I've used for a long time. I've got over 6k notes there now: snippets, recipes, book reviews, modem manuals. I keep thinking it's something I could do without, but it isn't. It's like the bottom drawer of my desk; I just stick stuff in there when I don't know what else to do with them.
For real 'reading' I use the standard Kindle App.
Images and Video
I take a lot of photos. While I wasn't happy to subscribe to a text editor (see my Goodbye Ulysses post) I do subscribe to the Adobe Creative Suite; notably the Photoshop, Lightroom bundle. I was very sceptical about the new more online-orientated Lightroom CC product, but it syncs beautifully and is getting more and more tools.
I've also had a good look at a photo editor called Luminar, and particularly the new 2018 version. It's $99AUD and has some impressive filters and effects and is getting better and better, updating fast. If I drop Photoshop it might be for this. I've tried, and beein unimpressed by Pixemalator and Snapseed on the Mac (though they both seem nicer on IOS) Luminar are saying an image organising tool is coming in 2018. I used to use Picasa for that, and miss a tool that can scroll effortlessly through thumbnails on the computer; maybe I should look at Adobe Bridge again?
I don't do much with video, so I'm happy with iMovie and a little video converter called Video Monkey which quickly takes the .mov files out of my Olympus Pen and turns them into usable .mp4s.
Utilities
I use Alfred literally every time I'm on the Mac, to search, to launch programs and to skip to the next track on iTunes. If you're keyboard orientated, like I am, it's a real boon. (I should say at this point that I always use an external mechanical keyboard on my Macs. So much so that, whenever I have to type something in class on the Macbook keyboard, and the students can see how many mistakes I make on that terrible keyboard, it's always worth a laugh.
For smaller, more specific, very targeted tasks I love Name Changer, which does the obvious, itsyCal, a little calendar that sits in your top menu bar, and LastPass for a password manager and Type it 4 Me, a great little productivity tool that replaced Text Expander for me when it too headed down the subscription model. With Type it 4 Me, I have a list of keyboard shorcuts xdate gives me the date, for example: 23/12/2017 and those snipppets are synced in the backgrouond so they're always up to date on all my machines. The thing with keyboard shortcuts is that you dont' want to have to re-learn them too often.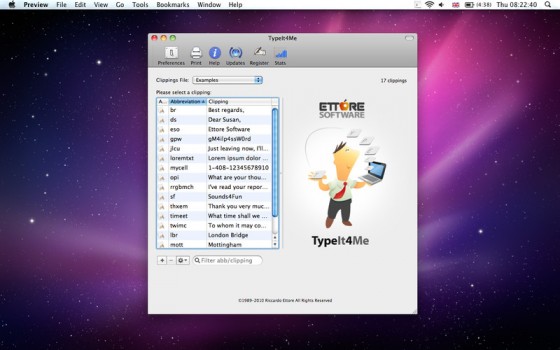 I don't used backup software since I moved to OneDrive. I'm now that confident that it's backing up my files in my personal cloud. I used Super Duper for a while but it seemed to become increasingly complex (have a go at backing up some folders rather than all, if you have half a day to spare!) I also use Dropbox for sharing files that I'm wanting to access and share currently.
Task Management and Planning
Task management is probably the place where I've spent the most money, taking a close look at Things, Wunderlist and ToDo before settling for 2DO which suits me very well.
2Do syncs seamlessly across my devices and is customisable enough to have projects, task lists and sub-projects. Importantly, for me, it follows the Getting Things Done paradigm created by David Allen, or at least follows it well enough for me.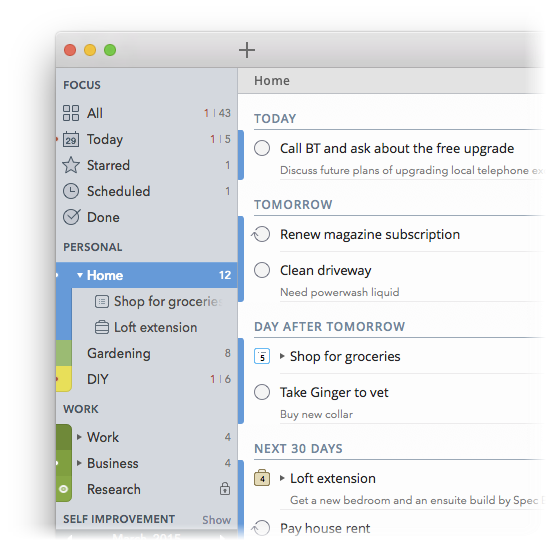 For planning, and communicating, using concepts, I use MindNode, a concept mapping tool …iStat Mini, a compact way to keep an eye on your CPU, memory pressure, battery, disk usage and network activity.
And, if I want to do a proper email, not just a couple of lines composed in Inbox, I use Airmail email client.
Thanks for listening, and thanks to John for the inspiration.
Happy New Year.